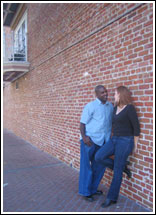 Non-Military Guests
The Oceanview Club, our chosen reception site, is a military event facility, and is located on the Point Loma Naval Sub Base. Therefore, every adult guest must bring a government issued photo I.D. (Driver's License, State ID, or Passport) to enter the base. All guests must park in the lot to the left of the base entrance and take the free Oceanview shuttle bus onto the premises. The shuttle will run frequently throughout the entire event.
Important
: When returning your RSVP card to us, please make sure that you write your
legal name
(i.e. Joseph not Joe) on the designated lines as well as that of your guest/s. You will
not
be able to enter the base if your name is not on the list and/or it does not match up with the name on your I.D. We don't want to miss seeing any of you on our special day, so please take care in doing this!
For directions to the reception site,
click here
.
Military Guests
Retired and active duty military guests may drive onto the base, rather than taking the designated shuttles. As with any base, Military I.D. and/or car stickers will be required to enter. For directions to the reception site,
click here
.