From the Beginning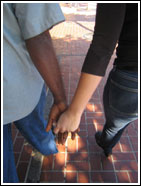 Important dates

We Met: February 12, 1999
Began Dating: December 1, 1999
Engagement: March 18, 2005
Wedding: July 29, 2006
Mike and Katie met at a fraternity-sorority pref night formal in February of 1999. Katie liked Mike immediately (how could she not? he's a hottie!), in fact, she had noticed him a couple of nights before when the ZBT guys serenaded the ΣK girls at their meeting. The attraction definitely wasn't one sided; Mike had noticed Katie and wondered who that hot redhead was. When Mike politely brought Katie one of those red cups of jungle juice at the pre-pref party, we immediately hit it off! We danced together the entire night, and we have some pretty hilarious photos to prove it!
After the night was over, we knew we would see each other again, and we did. It wasn't all roses at first; we had a rocky start, since Katie was not ready to settle down :), but on December 1 of that same year, we officially became a couple. We haven't looked back since! We are crazy about each other and treasure the time we spend together, whether it be on one of our
wacky adventures
, or while enjoying the latest film. We can't wait to begin a new chapter in our lives together as husband and wife!
Mike's Proposal
Katie's Perspective
Mike called me at work on Friday, March 18, and asked if I wanted to go to this restaurant that he had just found out about. I said, "Sure, that sounds like fun!" It would be a great start to my birthday weekend. Mike and I would be going to Disneyland and California Adventure for the weekend, and I would even be taking Monday off!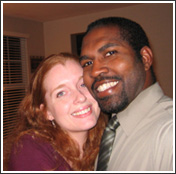 When I got home from work, Mike said that he had made reservations at three places, Donovan's, Sky Room, and the Marine Room, and that I should choose which one I wanted to go to. Now, for those of you not from San Diego, these are VERY expensive restaurants, and me, being the thrifty one, was totally against going, especially since we would be spending so much money the rest of the weekend. When I said, "Babe, we really shouldn't go," he gave me a dirty look, ignored me, and put on a suit. I figured that the decision was made, so I started getting ready too. About half an hour later, Mike called me into the computer room to look at a lollypop website. Earlier on, he had been telling me about these "great lollypops" that he tried, and he wanted me to pick out what flavor he should pick up for me. I was very nice about it, but in my head I was thinking, "why the heck am I looking at a lollypop website??" Finally, I turned to leave the room, and he said, "Wait, Babe, I have one more thing to show you." I turned around and he was on his knee, with the ring box open with this HUGE sparkle inside! I mean it looked like some serious bling! He asked me to marry him, and I was so shocked that the first thing that popped out of my mouth was, "Are you joking?!?" Finally, as my eyes welled up, I managed a "YES!" Then Mike started to freak out a bit. He said, "Babe, I just want you to know that it might not fit!" He then goes on to tell me the story of how he forgot what size ring I wore (he told the jeweler that it was 16, and the jeweler said, "I sure hope it isn't 16!!! If it is, you better run the other way! It's probably size 6"). He slipped the ring on my finger, and it fit PERFECTLY!! He was so relieved!
Then after hugging and kissing, we went downstairs where he had two other surprises -- a bottle of Chandon & chocolate covered strawberries. We snapped a couple of pics, then headed off to Donovan's where we celebrated with Filet Mignon, and a wonderful, $100 bottle of wine.
Mike's Perspective
This is a great story. Well, maybe not great, but it sure is tragic and funny! Well, I had been planning to give Katie her engagement ring on Friday, March 18th, just before we went to Disneyland for the weekend to celebrate her birthday. I had the perfect plan. Pick her up at her work so I am driving. Take her to the beach and walk down the shore, and then ask her at sunset. After that we would go to dinner at a very nice restaurant like Carl's Jr. or McDonalds. Just kidding. I was thinking Donovan's or the Sea Lodge in La Jolla. I even picked up a bottle of Moet and chocolate covered strawberries for dessert back at the house. It was going to be a great night. If only things didn't go wrong. So how did it really happen?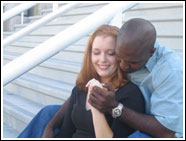 Well, I was going to pick her up but you know that beautiful highway rush hour traffic on the 15 north slowed me down. If you don't know the 15, it sucks. Anyway, so I couldn't pick her up and take her to the beach. Also, it was raining. Oh well, its was still early, so I was just going to go home and take her from home. So I got home, and she got caught in traffic! Time was ticking by, and I was getting nervous. My plan was slowly starting to unravel. It was getting really close to the 6:30pm sunset (which couldn't be seen anyway, since it was raining) and the 7:00pm reservations. She arrived at 6:00 and I had to get her to the beach so I said, "hey, let's go out to dinner," and I named a couple of really nice places. She looked at me and said, "No, we are already going to Disneyland this weekend. Save your money." Wasn't expecting that, so I just ignored it and started getting dressed for dinner. She took the hint and followed suit. Well, the sunset was out of the question, so I had to improvise something at dinner. Well, then we were late to the reservation at the Sea Lodge and there was no way to get there fast. The thing is, the Sea Lodge knew I was proposing so they had a little party planned, but they said I had to be there on time. So now my whole plan was shot. Now I thought I could postpone the proposal till the weekend, but I didn't want to do it at Disneyland, because it has no meaning to us. I wanted it to be special. Then I thought about having to wait more days with this secret burning inside of me. I absolutely couldn't wait any longer. I started to think maybe she knew what was coming. I thought she would find it strange that I was in a hurry and pacing on a Friday just to go to dinner. Eventually she would figure it out. I needed to confuse Katie so she would never see this coming. So I figured out what I was going to do. Magicians use a technique to mystify and confuse the audience. It's called misdirection.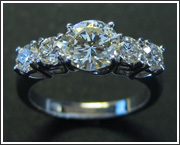 Plan 2:
I walked upstairs and showed Katie a website online. At a teacher conference I went to that day, they were passing out free lollipops. There were different flavors and she could chose one on the website for me to get her the next day. As you are reading this you are probably confused. That's what I wanted for her. I asked her a serious of questions. I wanted to make her so frustrated and ask me why I'm asking all these questions. So after she picked her lollipop she started to walk out of the computer room, I got on my knee and said, "Oh I have one more question." I opened the ring box and asked her to marry me. She looked at the ring and forcefully said, "Are you joking??" Wasn't expecting that one either. I had to look at the ring box to make sure it wasn't empty. I said "yes, I'm serious," and then, she finally said yes!
Not out of the woods yet people! I didn't know if the ring was going to fit. I had been guessing about the size of her finger. As she reached for the ring, I snapped the ring box closed. She didn't look too happy. I explained my case and told her that there was a guy in Fountain Valley waiting for her ring to resize it if it didn't fit, and we would go tomorrow morning before Disneyland. But to my amazement, the ring slipped on her finger like Cinderella's glass slipper. It was the best moment in my life. So a long story ends. We went to Donovan's finally engaged! So to all who read this story, remember, you can kill yourself trying to make the perfect proposal. But when the love of your life wants to spend the rest of their life with you, it is worth it!