Event Information
Wedding Date:

Saturday, July 29, 2006

Ceremony:

Grace Lutheran Church
3993 Park Blvd.
San Diego, CA 92103
Directions

Ceremony Time:

4:30 pm

Reception:

Oceanview Club
Point Loma Naval Base
140 Sylvester Road
San Diego, CA 92106
Directions

Reception Time:

6:00 pm

Theme:

A Night of Romance

Colors:

Crimson, Platinum, Black, White

Flowers:

Roses (Black Magic & Vendela)

Wedding party attire:

Formal dresses and tuxes

Guest Attire:

Semi-Formal

Ceremony Location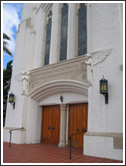 The ceremony will be held at Grace Lutheran Church, a beautiful mission style cathedral in Hillcrest. There are numerous stained glass windows, including a beautiful rosette window above the alter and a tryptic above the choir loft, wood panelling, and wood pews. The flooring is made up of Spanish tile and the lighting is dim, adding to the rustic, "San Diego character" of the building.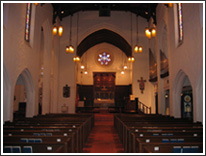 The congregation established itself in 1912, and in 1929 ground breaking took place on the present church, located on Park Boulevard. In 1930 the church was dedicated, and the Spencer pipe organ and many other memorial gifts were given by the members.

As soon as Katie saw the inside of this church, she loved it and knew it was the one! She is thrilled to be able to walk down the very long aisle (in fact, that's one of the things she looked for in selecting a church!), and we think our large wedding party will look incredible in the gorgeous cathedral.

For directions to the church, click here.









Reception Location



The reception will be held at the Oceanview Club on the Point Loma Naval Submarine Base. The venue is located at the very tip of Point Loma, and the view is SPECTACULAR. Even native San Diegans will be enthralled!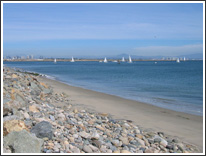 We were extremely lucky to get this location, as it generally books two years in advance for popular dates. Thanks to our wonderful Matron of Honor, who is a wedding planner, we were able to snag the date!

Dinner and dancing will take place on the deck of the Club, though we will have use of the indoor ballroom and large bar area as well. The weather in late July should be very warm, but just in case, we will have heaters in use on the deck. Get ready to dance the night away under the beautiful San Diego stars!

For directions to the reception, click here. Also be sure to check out the military rules section; there are some very important things to know before going to the reception.