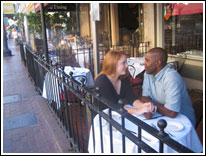 September 12, 2005
We had our first set of engagement pictures taken yesterday! Our friend
Jami
took them, and she did a wonderful job. See them
here
. We also booked our officiant yesterday; it was nice to get that task checked off the list!
June 24, 2005
Katie ordered her Maggie Sottero wedding dress yesterday, and since
Jessica
knows the owners of the
shop
, she was able to get a 10% discount! The dress should take 6 months to come in. Jess also tried on a few bridesmaid dresses, but no decisions are made yet!
May 17, 2005
Last night Katie met with
Nancy Stevens Florals
and booked her on the spot. Katie was extremely confidant that she would do a fabulous job, and her pricing seemed reasonable.
May 2, 2005
Yesterday Katie spoke with a possible
florist candidate
and the earliest consultation she was able to get will be two weeks from now. She's heard great things about this lady, so hopefully it all works out!
April 29, 2005
Last night we went to a dinner travel presentation for
Sandals Resorts
with
Marcie & Doug
. We didn't quite know what to expect, but we ended up booking our honeymoon! We will be going to
Sandals Grand St. Lucian
for 9 days and 8 nights. Because we booked when we did, we were able to get the 2005 rate in addition to a $250 spa credit.
April 24, 2005
Today was an eventful day in wedding planning! We attended a church service at
Grace Lutheran
to see what it was like, since we had never been. The inside of the church is absolutely gorgeous, and at one point in the service, the lights were dimmed which gave it a nice feel. We also figured out that each pew can comfortably seat about 6-8 people which gives 240-320 total.
After church, we headed to the
Bridal Bazaar
- Mike wasn't too excited about it, but Katie thought he was a pretty good sport. At the Bazaar, we put a deposit down on tuxes at
Men's Wearhouse
so that we could get their great deal ($59.99 per tux & every 5th tux is free!). We also booked
Stephanie Sundell
to be our photographer - her work is incredible. Finally Katie bought an organizer and some
wedding software
that she is stoked about. We also ran into a few people we knew there, including
Marcie & Doug
who will be getting married in a year (Marcie is one of Katie's bridesmaids). After tasting a lot of cake and chocolate fountains, we were ready to get out of the crowd!
Hopefully this week we will be booking our
videographer
.